News about a presidential decision to halt projected shale gas exploitation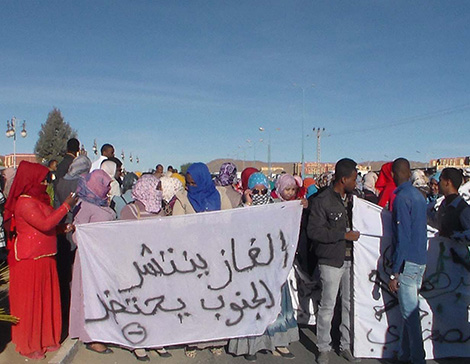 Representatives of the protesters in In Salah in southern Tamenrasset province, received Tuesday morning, a phone call from the services of Presidency of the Republic in Algiers, saying that the controversial shale gas file is now on the table of the President of the Republic, Mr Abdelaziz Bouteflika.
The head of state is now studying the issue in the light of a fact-finding report drafted by the special envoy to the In Salah region DGSN General Manager Abdelghani Hamel.
Mr Hamel recently visited the southern city and met with representatives of the protesters who entrusted him with raising their demand to stop drilling for shale gas, to the President of the Republic personally.
A representative of the protesters In Salah Mohamed Tayeb told "Echorouk": "we received a phone call from the Presidential Office yesterday, and there are assurances from several government quarters confirming a positive response to the demand of the protesters during the coming hours". The developments were seen by observers, as a sign near the end of the crisis.
Initiated at the beginning of the month, the mobilization of the population of In Salah continues against the exploitation of shale gas. Citizens there aren't yielding. The Government, for its part, gives no sign in the way towards an appeasement of the situation.
The Hamel option:
In this new crisis affecting the South, the silence of the Prime Minister, AbdelmalekSellal, is highly noted. Since the beginning of the events, Sellal reacted only once, through his Facebook account.
A few words written to reassure the population but to no avail.
Not only the posted text had no effect expected but worse yet, the Minister of energy Yousef Yousfi delivered a speech contradicting his chiefsuggesting that the exploitation of shale gas is inevitable for Algeria.
Moreover, the passage of Youcef Yousfi in In Salah left a very bad impression among the local population. Paltry Communicator, he botched his encounter with the local residents.
The Government being discredited, and in a bid to initiate a dialogue with the population, the power chose Abdelghani Hamel, DGSN Chief for such a salvaging mission.
He visited Sunday In Salah where he listened for three hours to the representatives of the demonstrators. An unprecedented situation.
Mr Abdelghani Hamel wields indeed no political position.
He is not a member of the Executive. What happens now In Salah is not a security-related file, demonstrations there are peaceful, without any threat to public order.