Moroccan Regime Prevents Spanish Lawyers From Visiting Occupied Laayoun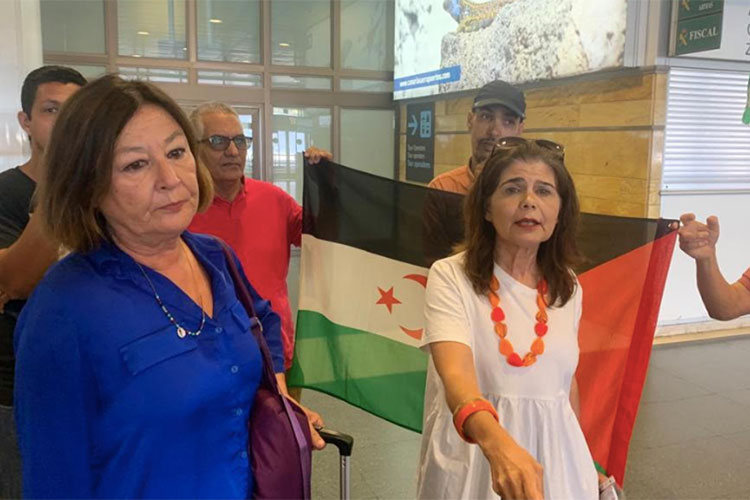 The Moroccan authorities prevented, here on Saturday, June 3, the two Spanish lawyers, Ines Miranda and Maria Dolores Trabios, from entering the Western Sahara city of Laayoun in its occupied part by the Moroccan regime, seeking to isolate the occupied population of Western Sahara from the rest of the world.
The two lawyers were forced by the Moroccan regime to return to the Spanish island of Las Palmas, according to what was reported by the Sahara Press Service.
Spanish lawyers' visit is organized by the International Association of Jurists for Western Sahara, in cooperation with the Spanish General Council of Lawyers, according to the Sahrawi agency, aiming "to break the media and human rights blockade imposed by the Moroccan occupation regime on the Sahrawis in the occupied territories to obscure the crimes against humanity committed by the occupation forces systematically and with complete impunity."
Western Sahara's press agency said that the Moroccan regime has escalated its "brutal and abuse during these days when the Sahrawi people celebrate the anniversary of the founding of the Popular Front for the Liberation of Saguia El Hamra and Rio de Oro and the outbreak of the armed struggle."
This is not the first time that the Moroccan authorities prevented and expelled foreigners from entering Western Sahara. Since 2014, they have expelled about 300 foreigners who tried to enter Western Sahara, even the Office of the High Commissioner for Human Rights, to obscure the ugly crimes they are committing against the Sahrawis in the occupied territories, the Sahrawi news agency explained.