Olivier Le Cour Grandmaison: "Why Does Macron Refuse To Recognize French Crimes Against Thousands of Algerians Like He Did For Maurice Audin?"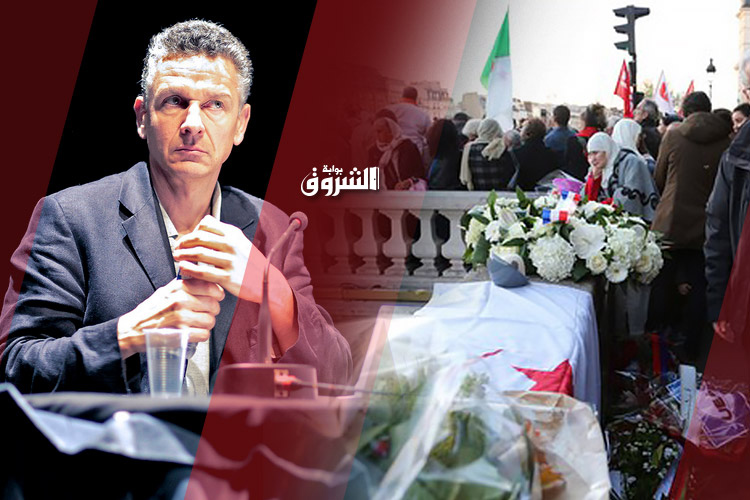 Paris- Saint Michel Bridge noticed the gathering of more than 200 people in the anniversary of the October 17, 1961 protests when French cops killed hundreds of Algerians, at the order of the police governor, Maurice Papon.
The gathering was attended by historians such as Gilles Manceron, Olivier Le Cour Grandmaison, the Coordination of the Victims of October 17, a number of those who attended the event, community members, Frenchmen and foreigners who joined the activist Rachid Nekkaz.
French historian Gilles Monceron said that the protesters were deported and put in assembly centers in Algeria in circumstances that led to their death.
Historian Olivier Le Cour Grandmaison considered that the enforced disappearance is today a crime against humanity and in the October 17 protests there were a number of disappearances and everyone should stand at this point.
"French President, Emmanuel Macron, is very contradictory because if he thinks that the torture was systematic during the Algerian war, thousands of Algerians ,like Maurice Audin died under torture".
"Why does not he recognize the crime of torture that led to the death of thousands of Algerian Muslims?"
"What was done by Macron was not innocent, but was intentional, and he was afraid to provoke the anger of one of the French parties".
"Politicians from the right and from the left wings justify each time their position with leaving the Algerian case for historians, while the archive is closed and acceding it is considered among the most stringent laws".
The French historian concluded by asking whether the recognition would stop at Maurice Audin or will extend to the other crimes in Algeria and said; "so far we do not know".