Algeria Condemns the Terrorist Attack That Targeted the Turkish Interior Ministry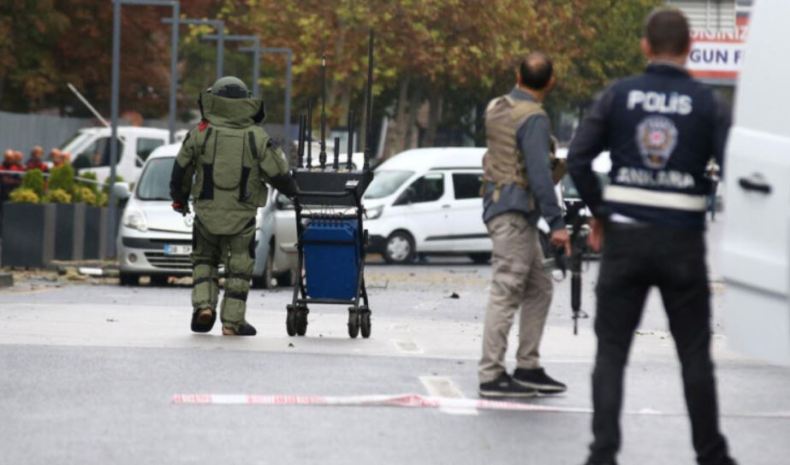 Algeria strongly condemned the terrorist attack that targeted, on Sunday morning, the headquarters of the Ministry of Interior in the Turkish capital, Ankara, wounding police officers.
A statement from the Algerian Presidency of the Republic said; "Algeria strongly condemns the heinous terrorist attack that targeted the headquarters of the Ministry of Interior in the Turkish capital, Ankara, causing the injury of two police officers while performing their national duties."

"As we pray to God Almighty to grant a speedy recovery to the wounded and injured, Algeria reaffirms its full solidarity with sisterly Turkey following this treacherous terrorist attack", the statement added.

Algeria's presidency also called "for the need to continue concerted regional and international efforts to confront terrorism in all its forms, and to put an end to practices that aim to destabilize countries."
The Kurdistan Workers' Party (PKK), listed as a terror group by Turkey and its Western allies, has claimed responsibility, Sunday, for the suicide bombing in the Turkish capital of Ankara that injured two police officers.

"A sacrificial action was carried out against the Turkish Interior Ministry by a team from our Immortal Brigade," the PKK told the ANF news agency, which is close to the Kurdish movement.

Earlier, President Recep Tayyip Erdogan said that "terrorists" will never achieve their aims, hours after the blast injured two police officers.

The powerful explosion outside the Turkish interior ministry, which was followed by large flames, was heard several kilometres from the site of the attack.

The targeted district is home to several other ministries and the Turkish parliament, which reopened as planned in the afternoon with an address from President Erdogan.

The PKK has been waging a deadly insurgency against Ankara for four decades.

"The villains who threaten the peace and security of citizens have not achieved their objectives and will never achieve them," Erdogan told the parliament.
The interior ministry said two attackers arrived in a commercial vehicle around 9:30 am (0630 GMT) in front of "the entrance gate of the General Directorate of Security of our Ministry of the Interior and carried out a bomb attack."
"One of the terrorists blew himself up. The other was killed by a bullet to the head before he had a chance to blow himself up," Interior Minister Ali Yerlikaya said in a press statement outside the ministry.
"Two of our police officers were lightly injured" in the exchange of fire, but their lives were not in danger, he added.
The Ankara police headquarters said on the social media platform X, formerly known as Twitter, that it was carrying out "controlled explosions" of "suspicious packages" to prevent other explosions.
The Ankara prosecutor's office said it was opening an investigation and banned access to the area. Local media was asked to stop broadcasting images from the scene of the attack.