Algerian-American Talks On Niger, Palestine And Western Sahara (Video)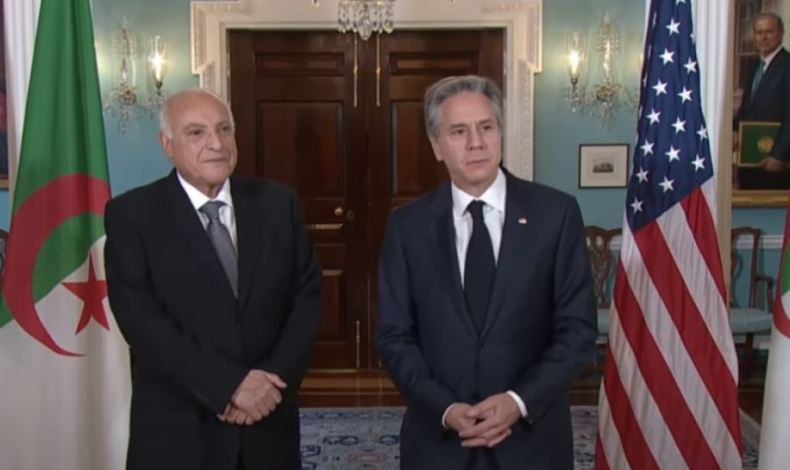 As part of his working visit to the United States, the Minister of Foreign Affairs and National Community Abroad, Ahmed Attaf, held talks on Wednesday with his American counterpart, Anthony Blinken.
According to a statement by the ministry, the diplomacy chiefs of the two countries highly appreciated the depth and solidity of the historical relations of friendship and cooperation between Algeria and the United States of America.
The two sides also praised "the pace of political consultations and the expansion of economic relations into new areas, and with promising prospects to achieve more, based on the values of friendship, trust and understanding."
"To this end, Minister Ahmed Ataf and his American counterpart, Anthony Blinken, renewed the expression of the strong political will of the leaderships of the two countries to shore up the Algerian-American partnership," the statement said.
The two sides also discussed the situation in Niger, Mali and Libya and "reaffirmed the consensus of the positions of the two countries on the preference for peaceful solutions to these crises, in a way that spares the region the dangers of the military option".
The two ministers also discussed "developments in the Palestinian cause in light of the blocked prospects for resuming the political process. They also discussed the latest developments in the Western Sahara issue.
In this regard, Ataf and Blinken reiterated their "support for the efforts of the Personal Envoy of the Secretary General of the United Nations, Staffan de Mistura, to enable the parties to the conflict to engage on the political track.
Attaf to Blinken: "A generation ago, I met Madeleine Albright in this building!"
In his statement to the media after the bilateral talks, the US Secretary of State referred to the experience of his Algerian counterpart, Ahmed Ataf. He said he was glad "to have the opportunity to spend time with a colleague of so much experience.
Attaf, in turn, referred to his earlier meeting in the U.S. State Department building with the late Secretary Madeleine Albright. She was Blinken's predecessor from 1997 to 2001.
Where he addressed the US secretary of state Anthony Blinken, he said: "Thank you for your invitation, which gives me the opportunity to return to the (US) State Department."
Before adding: "A generation ago, I was here to meet the late Secretary of State Madeleine Albright." He continued: "Since then, the relations between our two countries have come a long way in fulfilling the promises that we envisioned together."
Attaf had previously served as Algeria's foreign minister between January 1996 and December 1999, during the administration of former President Liamine Zeroual, before being reappointed to the post last March.