Moroccan Regime Acquiesces to Algeria's Sovereign Decision to Close Airspace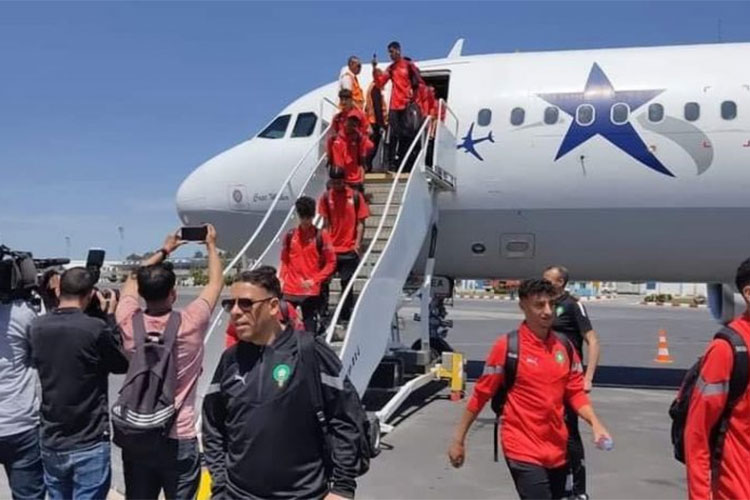 After confining it to a narrow corner, the Moroccan regime hastened to promote an "imaginary diplomatic victory" regarding the issue of the U-17 Africa Cup of Nations in Algeria, although it acquiesced in the Algerian condition to prevent any flight of Moroccan airlines in Algerian airspace, and was forced to use the services of an international company to transport its delegation to Constantine.
After manoeuvres that lasted for weeks, to impose a direct air route through Royal Air Maroc as a condition for participating in the Algeria tournament, the Moroccan regime, through the CAF, was forced to submit to the fait accompli, following Algeria's adherence to its sovereign decision to prevent the flight of any aircraft belonging to this company in the airspace, under a precedent decision regarding severing relations and the flight ban.
The "bargaining" campaigns of the Rabat authorities throughout this period towards Algeria and the CAF fell into the water, and to cover up this "diplomatic slap", the Makhzen, through its trumpets and electronic flies, hastened to promote an imaginary victory by imposing a direct line, even though the air embargo includes only Moroccan airlines. The Moroccan authorities ended up acquiescing and chartered a plane belonging to a foreign company to travel directly to Algeria to participate in this continental event.
Previously, the Algerian authorities made it clear that the air embargo decision is sovereign and irreversible and included only Moroccan airlines, and that the Moroccan national team can travel to Algeria via a flight from another company licensed to operate in Algeria.
The Moroccan national team was absent from the CHAN Algeria tournament, due to the Rabat regime's insistence on moving directly through the Moroccan royal airlines, but the Algerian side warned that this company is not authorized to cross the airspace, which is a sovereign decision that cannot be discussed, and the matter led to the arrival of the issue to the CAF corridors, which in turn considered the Algerian decision to be sovereign and could not interfere in it, in such a way that the royal authorities were forced to choose the non-Moroccan airlines to transport Morocco's delegation to participate this time in the U-17 AFCON Algeria 2023.