Recep Tayyip Erdogan Re-elected As President of Turkey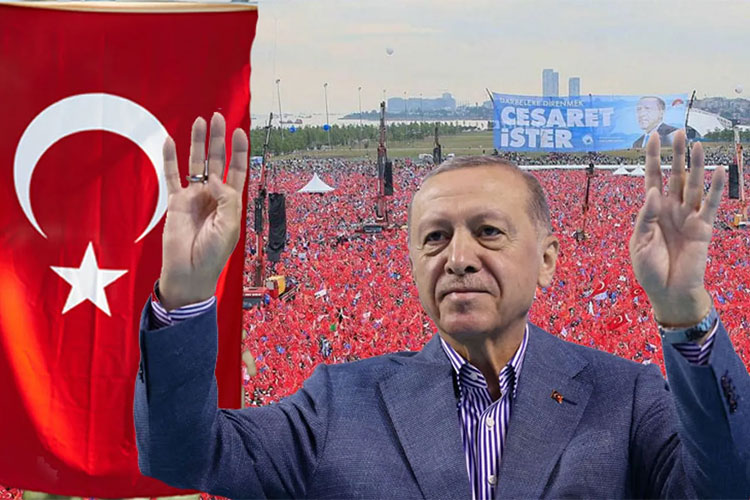 Recep Tayyip Erdogan was reelected President of the Republic of Turkey for a third term, after winning the majority of votes in the second round of the presidential elections held on Sunday, May 28.
At precisely five o'clock in the evening, Ankara time, the voting process for the second round of the presidential elections in Turkey ended.
Recep Tayyip Erdogan won 52.12% of the votes with 98% of ballot boxes opened, beating his challenger Kemal Kilicdaroglu who won 47.88%.
Erdogan took 49.52% of the vote on May 14, while his secular rival received 44.88%. The nationalist Sinan Ogan took 5.17.
About 64 million voters were called to vote since Sunday morning, through more than 191,000 ballot boxes inside the country, and in Turkish representations in 73 countries abroad.
A recent opinion poll in Turkey predicted that Recep Tayyip Erdogan would prevail in the second round of the Turkish elections at the expense of his competitor Kemal Kilicdaroglu.
The poll, conducted by the Turkish BETIMAR center, indicated that Erdogan prevailed with 52.19% of the vote compared to 47.81% for the opposition candidate.
Erdogan performed better than expected in the first round in regions hit by devastating earthquakes in February that killed more than 50,000 in the country, confounding critics as the government was criticised for its slow response to the disaster.
Ultimately, the man who has led Turkey for more than two decades fought off what many observers had said would be his toughest challenge yet as Kilicdaroglu formed a six-party alliance to defeat him that included the CHP, a nationalist party and former allies of Erdogan.
These elections have been billed as the most consequential since Turkey's first fair multi-party polls in 1950 – boiling down to a choice between five more years of Erdogan, the country's most electorally successful politician, or a new direction under an old party, the CHP, that has attempted to reinvent itself in recent years.
The 2023 elections took on extra significance as the year marks the centenary of the Republic of Turkey. The country's founder Mustafa Kemal Ataturk also established the CHP, which governed under a largely one-party system for 27 years.