Russia Supports Algeria's Desire to Join BRICS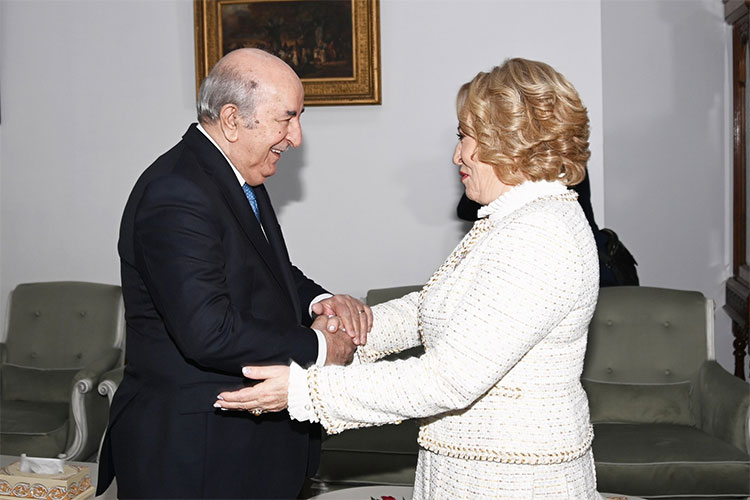 Russian Federation Council's Speaker, Valentina Matvienko, affirmed, on Thursday, her country's support for Algeria's desire to join the "BRICS" group, saying that the Russian Federation considers Algeria "a reliable and vital partner at the level of the African continent."
Matvienko added in a statement to the media after she met with the President, Abdelmadjid Tebboune, on Thursday, at the presidential residence, Matviyenko said: "For Russia, Algeria is a reliable and important partner on the African continent, and we have extensive cooperation in the field of trade and economy."
"For Russia, Algeria is a reliable and essential partner at the level of the African continent, a country with which we maintain important cooperation in the field of trade and economy," Matvienko added in a statement to the press after a meeting with the President Abdelmadjid Tebboune, at the headquarters of the Presidency of the Republic.
"Algeria wants to join the BRICS and we in Russia support this step," she added.
The Russian official explained that she "I delivered a message to the President of the Republic Abdelmadjid Tebboune from his Russian counterpart, Vladimir Poutine, who officially invites him to pay a visit to the Russian Federation, as well as another invitation to participate in the second Russia-Africa Summit".
"I had the honour to meet with the President of the Republic and to examine with him the state of Algerian-Russian relations, and several regional and international issues", she added, noting that President Tebboune "has a particular vision of developments in the world".
Matvienko asserted that she had expressed her heartfelt thanks to President Tebboune "for Algeria's balanced position vis-à-vis events at the regional and international levels, and its attachment to good relations with the Russian Federation", she indicated that the President of the Republic underlined that Algeria considered Russia as "a great friendly country".
The Russian official called on for "the preservation of this good relationship uniting the two countries", highlighting "the great opportunities for expanding cooperation in various fields such as energy, transport, agriculture, infrastructure, education, culture and the pharmaceutical industry in the best interests of both countries".
"Cooperation between Algeria and Russia is not directed against any country. It is cooperation for developing our interests and relations," Matvienko confirmed.
"We highly welcome and we share with Algeria the principle of non-interference in the internal affairs of countries and the right of peoples to self-determination", the Russian official added, stressing that her country pleaded for "a multipolar world, fairer and more democratic".
"The convergence of the positions of the two countries on this subject constitutes a solid basis for cooperation in international forums, particularly at the level of the UN", she added.
Matvienko noted that "bilateral relations play an important role in the stability and balance of the global energy market", highlighting "the density of cooperation between the two countries within the framework of OPEC + and the Gas Exporting Countries Forum".
She concluded that her meeting with President Tebboune had aroused "the feeling of having in the world great political leaders who can contribute to the construction of a fairer and more democratic world".
Algeria hopes to join the BRICS in 2023; the current members of BRICS – Brazil, Russia, India, China and South Africa – have already approved its entry into the bloc. Algeria submitted a formal application in November 2022.