Businessmen Exploit Young Africans To Drain Algerian Gold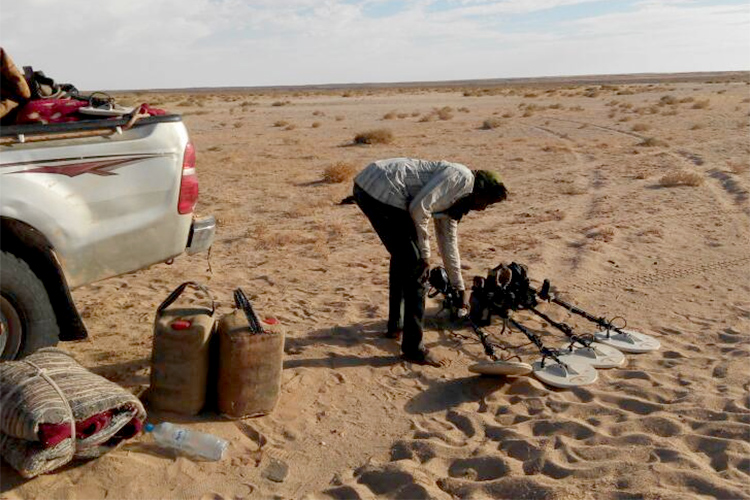 Investigations that were carried out by the Gendarmerie services on 223 gold diggers in the deep desert after being arrested by the National People's Army detachments, led to the involvement of businessmen in the illegal transfer of young men and women to exploit them in the process of prospecting for gold in those areas.
Echorouk sources said that in implementation of the instructions of the Supreme Command of the National Army, the research factions of the National Gendarmerie services conducted extensive investigations with more than 200 gold prospectors after being arrested by different divisions of the National People's Army.
Investigators have concluded that those involved in the search for gold are not poor young people who are seeking wealth, but there are businessmen involved in the transfer of African nationals to the Algerian desert adjacent to the Niger illegally, for exploitation in the process of gold exploration in those areas in exchange for few sums.
The same sources added that 15 Chadians, who were arrested in Tamanrasset (southern Algeria) by a detachment of the National People's Army in coordination with the border guards, were on board of 4 vehicles, that were loaded with gold prospecting machines, drinking water drums and three plans for exploration sites in the Algeria large desert that is bordering the states of Mali and Niger, such as the areas of Silt, Twin, Tin Zouatin and the suburbs of Ain Amgal, revealing interesting facts about the commissioning of five Algerian businessmen with trade In Ghana, Togo and Gabon.
Investigations have also shown that an isolated mountainous area of southern Algeria bordering Niger, the Tirririne region, has become an attractive destination for thousands of Algerians and African gold diggers, prompting the Ministry of National Defense to give strict instructions to tighten control on this area and all the suspected areas.
Defense Ministry's annual toll for 2018, shows that armed forces arrested 950 gold diggers, seized 486 metal detectors and 945 vehicles, confirming that exploration for gold in the deep Algerian Sahara is on the rise.