Investment Opportunities in Algeria Attract Major Japanese Companies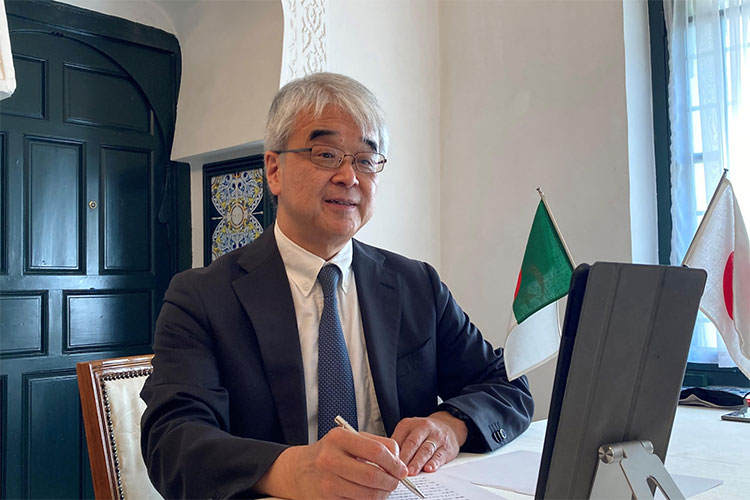 The Japanese ambassador to Algeria, Kono Akira expressed on Sunday his country's absolute interest in the Algerian market, to contribute to significant investments in tourism, especially hotels' investment, as well as agriculture, industry health and energy.
On the sidelines of his visit to Tlemcen (western Algeria) and his reception by the governor, Amoumen Marmouri, the Japanese diplomatic official stated that there is a real desire from his country's authorities as well as prominent Japanese investors to enter the Algerian market to conclude successful partnerships in many vital fields, especially tourism, industry and higher education, by launching major investments soon in Algeria, adding; "There is a sincere will to transform several Algerian cities into a platform for managing giant investment projects that will benefit both countries, given the advantages and incentives granted to the foreign economic partner in this particular field."
Akira Kono presented opportunities for cooperation with the Algerian authorities in various cities of the country – according to the latter's statements- explaining that Algeria has all ingredients for attracting important foreign investments, especially in the sectors of tourism, industry and other fields".
The Algerian-Japanese meeting was also an opportunity for the same diplomatic official to value the bilateral relations between the two countries and the existence of real intentions to develop them in various fields. It was also an opportunity for the governor of Tlemcen to approach the investment map in the wilaya and the attractiveness of the region in the various sectors of agriculture, tourism, industry and scientific research (university). There was a discussion about the tourism value of the wilaya of Tlemcen, especially as it contains a great cultural and historical heritage.
He also noted the strategic location of the wilaya and its availability on an integrated network of roads, ports and an international airport, which provides various opportunities for effective foreign investment.
It is known that Japan had included Algeria among the forefront African countries concerned with Japanese investments, at the end of the eighth session of the Tokyo International Conference on African Development (TICAD 8), which was held in Tunisia on August 27-28, 2022, where Japan announced a large investment plan for three years worth $30 billion for Africa, as it seeks to give a new impetus to its new African policy, which it hopes will be more realistic, with a special focus on major investments.