The electronic war between the Algerian and Egyptian hackers entered into serious complications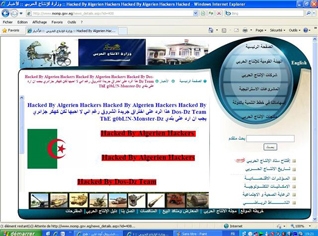 The case of the Egyptian hackers, who attacked echoroukonline web site, following the football conflict between Algeria and Egypt, turned to a spectacular event in the forums of the internet, as this act launched an electronic warfare between the Algerians and Egyptians.
The technical team of Echoroukonline succeeded in bringing back the work of the site minutes after the indiscriminate attack by the Egyptian hackers, as the technicians of the Egyptian Ministry of Information failed in bringing back the website's data only after hours.

An Algerian hacker attacked the website of the Egyptian Ministry of Military Production, and modified its main front by adding these words "Here is the respond to Echorouk newspaper, I'm an Algerian hacker who must respond to any violation of the rights of my country", as he added a comment with the picture of the national flag.